https://www.amazon.com/When-Youre-DONE-Expecting-Collection/dp/0692931961/ref=sr_1_1?ie=UTF8&qid=1511986148&sr=8-1&keywords=when+you%27re+done+expecting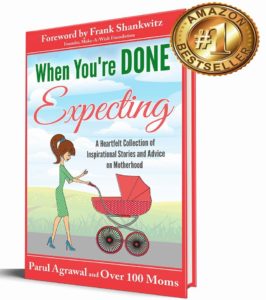 This is a book with over 100 authors from across the globe. It features mothers from different cultures , who come together on one platform to tell their real life stories . They shares their fears and doubts, their big wins and little triumphs.
I'm so honoured to be part of this amazing project , a small part in a bigger story.
This is not just a book that you will read and learn from. This book can be your companion through your whole journey of motherhood. A book that will speak volumes to you at every milestone of being a mom.
As we know books can be your best friends,this one will be a friend for life.